Natural remedies for colds and flu
I can't remember a winter in which colds and flu were so common, or were so long lasting. With so many people suffering from these, I thought it would be helpful to talk about remedies.
Pharmacy/supermarket products
The aim of these is to work directly on the viruses and the symptoms of colds and flu.
The commonest are:
Non-steroidal anti-inflammatories
These mask the symptoms but do little to reduce the duration of illness. Even medium term use has been linked to increased incidence of ulceration in the digestive system.
Anti viral drugs
These only reduce the duration of illness by about 12 hours.
Antibiotics
GPs are still put under pressure by patients to prescribe these for colds and flu, even though they can do nothing to help in these cases as neither are caused by a bacteria.
Natural remedies
Natural remedies also directly attack the viruses which cause cold and flu. However, they also help the body's own immune system to be more effective.

Garlic
Garlic has a range of helpful properties:
Anti-viral, inhibiting the reproduction of viruses in the body.
Boosting the immune system, for example by increasing the number of natural killer cells in the body, which destroy viruses.
Relieves many symptoms.
In one study a group of people took garlic for 12 weeks between November and February. The average number of colds was halved and the duration of symptoms fell from an average of 5.01 days to 1.52 days.
Garlic in the diet is very helpful but it is hard to get enough this way. I recommend a garlic supplement, especially when taken in the morning to maintain healthy levels – unless you like eating garlic for breakfast! Odourless supplements are of some use but the bulk of the useful chemicals are those which are also responsible for the smell.
Horseradish
Horseradish is very widely used in Australia and on the continent for colds and flu but strangely neglected in the UK.
It contains a range of potent anti-viral phytonutrients.
It is reported to have a decongestant effect.
Clinical studies have found it helpful in upper respiratory infections.
As with garlic it can be added to the diet, but its strong taste makes it hard to use in many dishes. I am not aware of a specific horseradish supplement. It is available as a liquid tincture but is very strong tasting indeed.
Vitamin C
Doses of 1 to 2 grams a day have been found to reduce the recovery time from colds and flu. One study of high dose vitamin C reduced the symptoms by 85%. Participants took 1 gram an hour for six hours followed by 1 gram three times a day.
At the first sign of any symptoms of a cold I take 1 gram every 2 hours till all symptoms have gone. The more unwell you are, the more vitamin C your body can tolerate. If you take too much you might get loose bowels – a good sign that you are well on the road to recovery.
I take a combination of Nature's Aid low acid vitamin C tablets and their effervescent C, which has a nice orange flavour.
Zinc
A deficiency of zinc is linked to decreased levels of immune system function and an increase in susceptibility to infections.
Studies have found that supplementing with zinc:
Speeds recovery from the symptoms of colds and flu; taking it within 24 hours of the onset of symptoms has been found to half the time to get over them.
Reduces the severity of symptoms.
An ideal combined supplement
I am very impressed with Viridian's "Horseradish and Garlic complex" which provides a convenient mix of valuable nutrients in therapeutic doses. The suggested dose is 3 capsules a day, as near to 8 hours apart as possible. Take them as long as your symptoms last.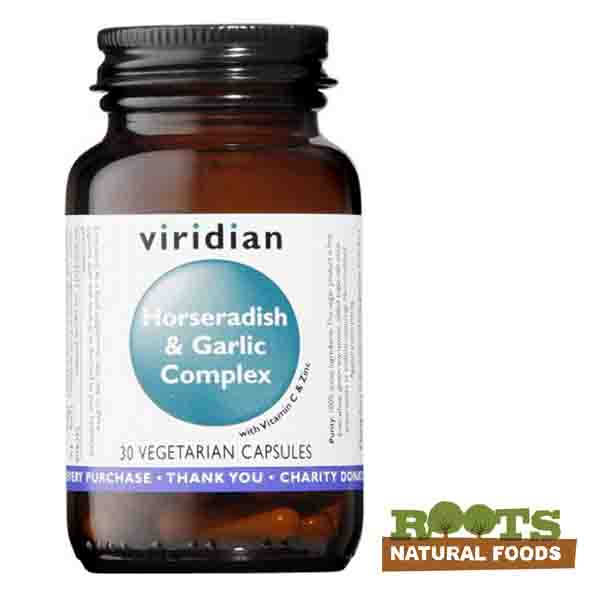 3 capsules provide:
Vitamin C – 1 gram
Zinc – 30mg
Garlic extract – 150mg (equivalent to 18g of fresh bulb)
Horseradish 600mg (equivalent to 3g of fresh root)
This is available at Roots, as are the other supplements I've mentioned.