Best supplements for vegan exercisers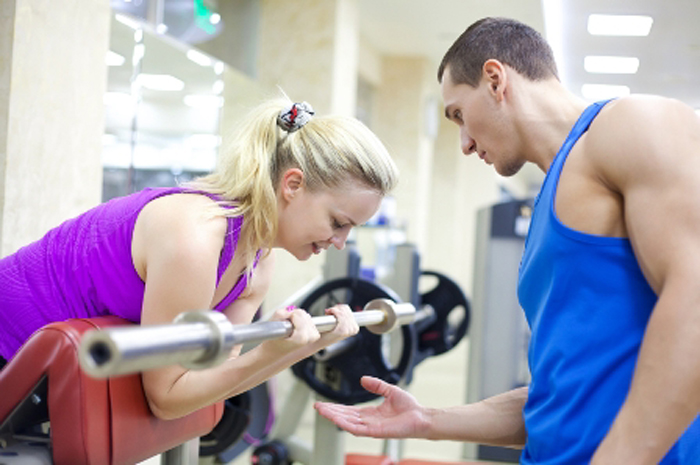 Health food shops have a bewildering range of pills, powders and potions to help increase your strength, fitness and endurance. They tend to be expensive and subtly – well not always subtly – claim that they contain all you need to achieve your goals with minimum effort. They don't: if you want to lift heavy weights, you need to start with light weights. If you want to run fast, you have to start by running slowly.
But supplements do have a valuable role to play. They can help the body achieve your goals, speed recovery and reduce the risk of illness from over training.
In this post, I will be looking at a wide range of supplements, some for general use, others aimed specifically for those who exercise.
I became interested in this area after joining the excellent Kinetic Studios gym on Haydn Road. A combination of hard work, improved diet and encouragement from the gym members and personal trainers has made a huge difference to my strength and health in just a few months.
Your specific needs depend on the activity you do and on the frequency and hardness of your training regime. Ultra-marathon runners, for example, don't need huge biceps.
The starting point has to be a good diet. The more exercise you do, the more you need all the essential nutrients but this will need to be the subject of another blog.
Protein powders are too big a topic to discuss here, so will also be the subject of a separate blog.
The single most important supplement
Water is absolutely vital for all exercise. 2% dehydration can reduce performance by 20%. I know it's usually seen as part of the diet some of us regard it more like a supplement. Water carries nutrients to every cell in the body and removes waste products. 70% of muscle is water so building muscle is going to be difficult if you are dehydrated.
Four essential supplements for a basic regime
I think any regime needs to be based on four basic supplements. I'll be writing future blog posts to expand on the points I make here about supplements that we stock that are suitable for vegans.
A good multi vitamin and mineral
This will plug any gaps in your diet. I would recommend one of Viridian's multi-vitamins.
Extra Vitamin C
This helps energy production, reduces muscle soreness, helps fight free radicals (a bye product of exercise) and reduces the likelihood of infections. I recommend 1g a day of Nature's Aid low acid C.
Extra Vitamin D
This is vital for effective metabolism, cell growth and development. 1000ius a day should be a minimum, 2000ius if you are exercising hard. D3 is better than D2. I recommend Viridian.
EFA (Essential Fatty Acid)
This is necessary for healthy cell membranes, encourages fat burning by speeding metabolism and  aids recovery. Most diets have an imbalance of EFAs. I suggest Flaxseed oil to ensure a healthy balance. Nature's Aid capsules are good. Alternatively, take it as a neat oil (it's not nice – but not as bad as the third set of squats!).
We have a range of each of these key nutrients and are happy to advise.
Supplements for Joint protection
Running and weights both put pressure on joints and bones. Supplements to consider are:
Glucosamine
This aids the formation of healthy joints, so good for damage repair. The body does synthesise it but struggles to make enough, especially as we age. It is usually made from animal sources but both Nature's Aid and Viridian make vegan ones.
Chondrotin
This works with Glucosamine and is usually supplemented with it.
MSM
Another great supplement for healthy joints. Viridian make a very good Glucosamine and MSM combination
Viridian Joint Complex
This is a really good combination of Glucosamime and a range of anti-inflammatory agents including turmeric, boswellia, quercetin and ginger.
Super Foods
There is a growing range of superfoods and I'll be focusing more closely on these in another blog post. As each superfood has different properties, I think it best to rotate them. For exercisers, I think the single most useful is:
Spirulina
This reduces muscle damage from exercise, improves performance and strength.
Immune system support
If you are prone to infections, which can be common in those exercising a lot, consider beta glucans. Research suggests it is more effective than Echinacea for fighting infections.
Other "every day" supplements to consider
B complex
This helps energy production and protein digestion.
Magnesium
This aids recovery and deficiency can lead to cramp. I suffer from cramp, so use Better You magnesium spray after every gym session and swear by it.
Supplements specifically for exercising
There is an increasing range of vegan options, but many have lots of unnecessary chemicals added. I have researched the market and found one of each type of supplement – which I think offers a good combination of price and quality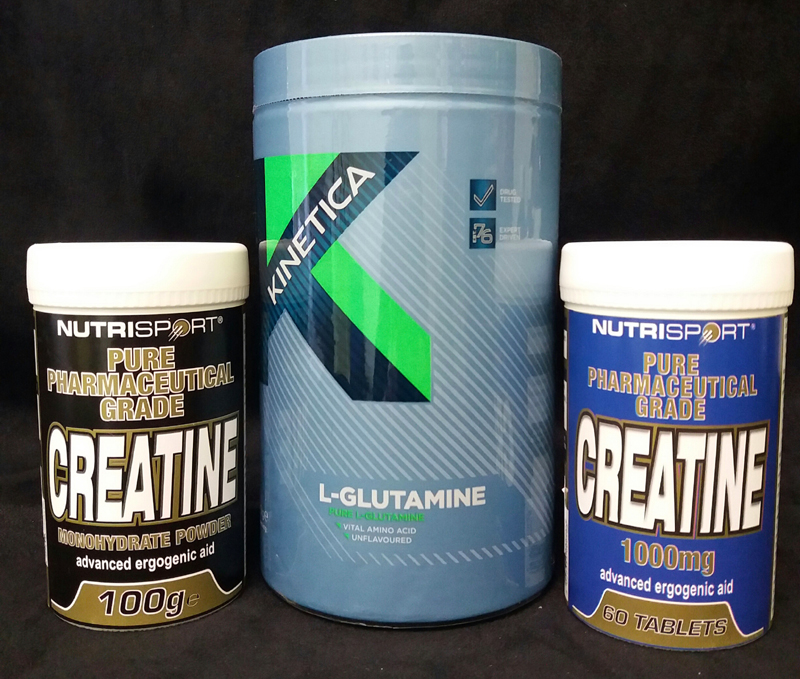 Creatine
This is found naturally in nuts and seeds but it is hard to get large doses without supplementing. There have been over 200 studies into creatine, which have demonstrated that it is safe for long term use. It increases muscle power and energy, builds strength and bulks muscle. The suggested dose is 5mg a day and it needs to be taken consistently for best results. It is common to take 20g a day for the first 5 to 7 days to saturate the muscle cells. This isn't necessary but leads to faster results. Creatine works better if taken with a good sized meal and away from a training session. You need to increase your water intake from two to three litres a day whilst taking creatine.
Creatine is best avoided if you have a kidney disease.
I would recommend creatine for weight lifters and body builders. I use vegan creatine produced by Nutrisport, available as powder or tablets.
Glutamine
This is widely touted as a muscle builder, however there is no evidence that it does this in well-nourished adults. Its main role is to reduce the negative effects of prolonged and frequent exercise. It is also an excellent supplement for a wide range of digestive problems. Treena and I have found it very helpful with IBS.
I would recommend glutamine for endurance athletes; marathon runners and triathlon competitors and would choose glutamine produced by Kinetica, available in 500g tubs of unflavoured powder.
Branched Chain Amino Acids (BCAA)
Leucine, isoleucine and valine are important for protein synthesis and energy production thus helping muscle growth. There are also indications that they might help boost the immune system. They should be taken in the ratio of approximately two leucine to one each of the other two. The presence of B6 helps the body use the BCAA efficiently.
This is another supplement for strength athletes. We have two excellent products. If you prefer a tablet, I recommend Solgar's BCAA which has a good ratio of the three amino acids and a useful dose of B6.
I have started taking Revolution Food's BCAA and protein mix, available in chocolate or wild berry flavour. It's not cheap but it's a really top class product. As well as BCAAs and protein, it also contains:
Turmeric – an anti-inflammatory.
Digestive enzymes – to help protein synthesis.
Coconut water powder and grey rock salt – to restore electrolyte balance.
Probiotics and prebiotics to help immunity.
Moringa and chlorella – for vitamins, minerals and antioxidants.
Flavoured with West African katemfe, fruit extract, to help protein synthesis.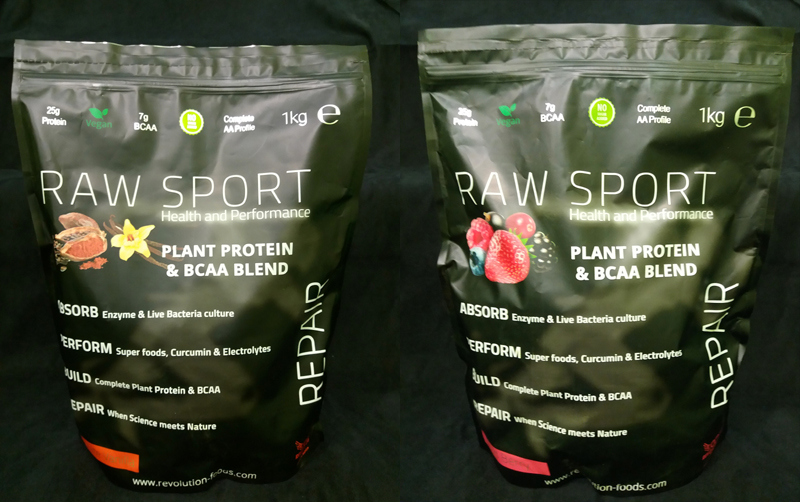 We stock a wide range of supplements, by top class companies, including all the ones featured in this post. We are always happy to give advice about diet and supplements. Ken and Treena are always happy to have a chat about gyms and exercise generally.
Photo Credit: matthewryncarz Flickr via Compfight cc