Holiday Health – take care of yourself this summer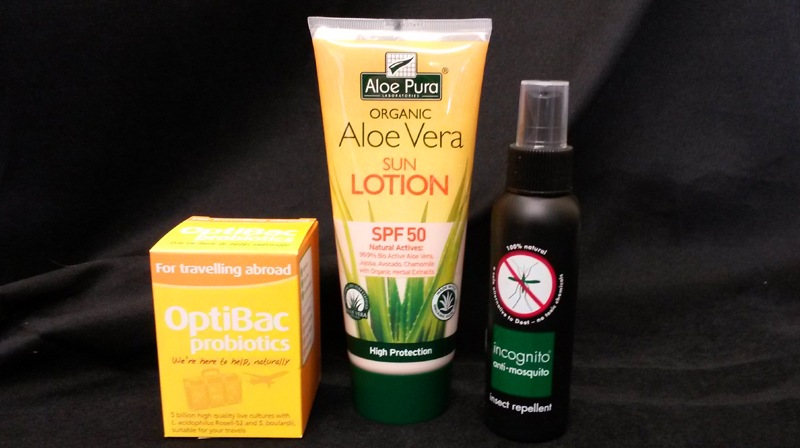 There are three common health problems that Roots' customers encounter regularly: holiday diarrhoea, sun burn and mosquito bites. Here are some hints and tips to prevent and treat these health issues and to help keep your holiday a happy one.
Holiday diarrhoea
Probiotics to prevent holiday diarrhoea
The commonest holiday health problem, holiday diarrhoea affects up to half of all people travelling abroad. Over 80% of cases are caused by pathogenic bacteria, especially E.coli.
Prevention is better than cure and over 80% of cases can be prevented with probiotics.
I always use a specific supplement designed for travel, "For those travelling abroad" by Optibac. I really like this company as they do lots of independent clinical trials in universities and hospitals. "For those travelling abroad" contains a range of probiotics, formulated to help with E.coli and a range of other bacteria, including Klebsiella and Staphylococcus.
It's convenient to use as it doesn't need to be stored in a fridge but make sure you start using it a week before you go away.
Holiday tips to avoid holiday diarrhoea
Drink bottled water. In eateries, insist that bottles are opened in your presence, otherwise you might be drinking tap water that has been put into an empty bottle.
Avoid ice cubes.
Be wary of dairy products.
Alcohol is usually OK (hurrah).
Be wary of peeled and washed fruit – ideally eat oranges and bananas you can peel yourself.
Brush your teeth with bottled water
Sun burn
Choose a sun screen to protect from sun burn
Many pharmacy sun screens are bad for us and the environment. They often contain endocrine disrupting chemicals, actually increasing the risk of skin cancer. Many also contain chemicals which can kill coral by over stimulating the activity of algae which usually work with coral. As much as 5,000 metric tons of sun screen is washed off swimmers each year so this is a serious environmental issue.
Roots sells a range of sunscreens. I am particularly impressed with the Aloe Pura range. They make SPF 15 and SPF 50 sun lotions, as well as an after sun lotion. These are all made from organic aloe vera gel and contain no added colours, perfumes or any other unnecessary additives.
Use the SPF 15 for medium protection. As well as aloe vera this contains jojoba, avocado and chamomile. However, please note that it is not vegan as it contains beeswax.
The SPF 50 sun screen is vegan and offers higher protection with added pomegranate, elderflower and echinacea.
Use the after sun lotion to sooth your skin. It contains nourishing almond and avocado oil as well as bilberry, witch-hazel, orange and lavender.
Coconut oil and shea butter are often recommended for DIY sun screens. Coconut oil contains useful antioxidants. But neither has a SPF of more than 6, so they are very weak.
Natural treatments for sun burn
If you find yourself with sun burn follow these tips to reduce the effect on your skin:
Immediately apply a cold compress.
Take a cool bath or shower. Adding a cup of cider vinegar helps, as does gently rubbing the affected area with oats in a piece of material. Oats are especially useful to help itching. Avoid soap as it is drying.
Apply aloe vera gel.
Drink plenty of water or juice to hydrate the skin.
Apply cool – not cold – dairy milk with a cloth. This provides a soothing protein layer.
Apply vitamin E oil to help reduce inflammation.
Black tea that has been allowed to cool can help draw out the heat. Apply tea bags that have been soaked in cold water to sun burnt eye lids.
Mosquito bites
Preventing mosquito bites with natural insect repellent
There are a lot of different insect repellent product available; my favourites are made by Incognito. Their main product is a spray made from totally natural products. Deet-free, it is safe to be used on babies over 3 months old and most people with sensitive skin.
It is 100% biodegradable and was tested in the Amazon rain forest. The company is also incredibly ethical, donating 10% of their profits to charity and planting enough trees to make the factory carbon negative.
Incognito also make a hair and body wash and a roll-on.
We've been a fan of Incognito since their very early beginnings and have been stocking their products for years. When they started their website the only shops listed were Roots and Harrods!
Vitamin B1 is often recommended as a preventative. It can really work for some people – for others it makes no difference at all. As vitamin B1 is one of the less expensive supplements, I think this is worth trying, especially if you are travelling to a high risk area. Take 100mg, starting a week before travelling.
More holiday tips to deter mosquitos
Mosquitos are attracted to dark coloured clothing so wear lighter coloured garments.
Avoid using candles as mosquitos are attracted to the carbon dioxide they emit.
Citronella incense or essential oil in a burner helps to keep mosquitos at bay.
Minimise odours, including perfumes, fabric conditioner and deodorant. The Incognito range of unperfumed soap, etc. is very good.
A bonus holiday health tip
We all know wasps are hard to avoid even if you're holidaying at home. For wasp stings, apply apple cider vinegar.