What can you expect from a Herbalist Consultation?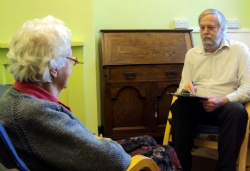 If you are suffering from an acute health problem such as heartburn orstomach ache, you are welcome to pop into Roots for a quick chat and anover-the-counter treatment such as cream, a tea or standard herbal mixture.

For longer term health issues, though, we recommend a full consultationwhich takes around 75 minutes. A full consultation is £50.00 including twoweeks' medicine.


What happens in a herbal consultation?

In this consultation we will focus on the health issue of most concernbut, as part of a holistic approach, Ken will also ask about your medicalhistory, any medication you are on, your diet, lifestyle and family medicalhistory.

By gaining this full picture, Ken will be able to ascertain your exactneeds and give you a herbal prescription that suits you. He will also offertailored advice on supplements, diet, exercise, and other lifestyle factorsthat will help address your issues.


How soon will I see positive changes?

Many people will start to see beneficial changes almost immediatelyalthough if you suffer from a long-term chronic condition it may take a littlelonger.

In most cases you will need two or three brief follow-up appointments toreview your progress and to make any necessary tweaks to your treatment. Theseappointments cost just £5.00 each.


What about herbal consultations forchildren?

Ken offers herbal consultations for children and these are charged athalf the adult rate. Because a child's metabolism is faster than that of anadult, they usually need fewer follow-up appointments.

To book a consultation call Ken on 0115 960 9014.